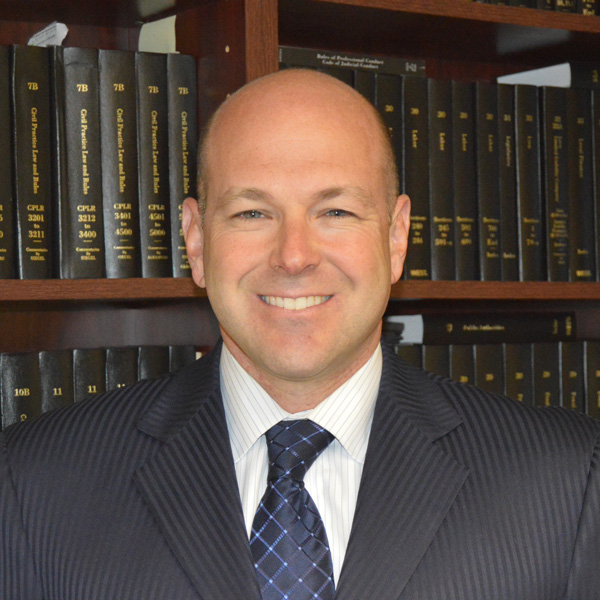 After attending the University of Albany, Gary J. Young graduated Cum Laude from Thomas M. Cooley Law School and, in July 1998, was admitted to practice law in the State of New York. Since joining his father's practice in 1997, Gary has handled thousands of personal injury cases and recovered tens of millions of dollars on behalf of his clients. Gary has successfully tried both jury and non-jury cases, as well as arbitrations, throughout New York. Gary's unwavering work ethic and "no stone left unturned" management style, has proven extremely effective over the past 25 years, helping him win exceptional recoveries for his clients.
Recently, in June 2022 Gary obtained an award of $2,000,000.00 for a victim of a construction accident – the same constituted a tender of all available insurance proceeds and in January 2022 an award of $850,000.00 for a car accident victim. Past awards also include $1,350,000.00 for a dog bite victim (As per the New York Law Journal this was the highest award in New York for the year ending 2016 for a dog bite victim), $1,100,000.00 for the victim of an assault, $1,000,000.00 for an woman injured in a motor vehicle accident, $925,000.00 injured in a construction accident at his home, $900,000.00 for a woman who slipped and fell on ice, $900,000.00 for a woman injured in a motor vehicle accident and $900,000.00 for a man injured in a motor vehicle accident.
Gary understands and appreciates the "human side" of personal injury, and how the negligence of others can exact an enormous emotional and physical toll on his clients. For this reason, Gary keeps in constant contact with clients throughout their cases to ensure they are kept well informed, allowing his clients to focus on their physical and emotional recovery. Gary also prides himself on client responsiveness, ensuring that all phone calls are answered or returned promptly the same day. Gary understands that simple things, such as professionalism and good old fashion kindness and emotional support, can go a long way to helping his clients achieve not only monetary compensation for their injuries but also the peace of mind and confidence knowing that the right man is on the job.
Gary has also regularly lectured on No-Fault issues, in January 2012, was voted "Best Attorney in Long Island" by the readership of the Long Island Press and received a "Super Lawyers" designation for the years 2016, 2017 and 2018.